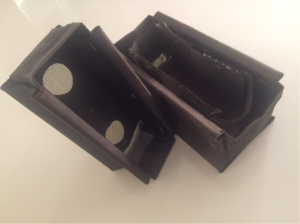 TF Combo Bags
ACT thermally formed combo bags are built with the latest technology for best performance in Aluminium casting.
The design, material and manufacturing process, make these bags suitable for high volume production. The dimensional accuracy is excellent, and the reproducibility of the shapes is very consistent.
ACT – TF combo bags can stay rigid for up to 1.5 hours in molten metal before getting soft. This reduces the risk of any impurities from flowing through and saves cost and down time.
A further advantage of ACT-TF Combo bags, compared to other combo bags, is the production of less smoke and flames when in contact with molten metal, making them more environmentally friendly
ADVANTAGES:
Can simply replace existing combo bag without any change in systems.
Fast and easy to install.
ACT-TF-Combo bag stays strong and rigid for up to 1.5 hours.
Very less smoke and flame. Environmentally friendly
Higher production speed.
Excellent consistency in reproduction.
Highly Cost effective and time saving.
| Available Sizes | Dimensions |
| --- | --- |
| Length: | 330, 406 or 457 mm (13, 16 or 18 in) |
| Height: | 89, 102, 114, 127, 140 or 152 mm (3.5, 4, 4.5, 5, 5.5 or 6 in) |
| Width: | 102, 127 or 152 mm (4, 5 or 6 in) |
| End Patch: | 25–140 mm (1–5.5 in) |
| With or without drain hole. | Custom bag design and dimension can be available as per customer design and drawing |