FUSED REFINING FLUXES
The Refinal range of environmentally friendly fused granular refining agents provide an effective alternative to chlorine fluxing in the furnace as a means of removing alkali metals and inclusions.
The Refinal range is supplied to smelters worldwide and a series of development programmes have resulted in formulations which offer enhanced performance at lower cost.
Refinal 350 based on minimum 35% Magnesium Chloride has proved to be an efficient remover of alkali metals and oxides from molten aluminium.
Refinal 352XF, also based on minimum 35% Magnesium Chloride, but with the addition of fluoride, has further enhanced performance and increased efficiency by up to 25%.
Refinal 565XF based on partial substitution of the potassium chloride content with up to 30% sodium chloride is proving to be a cost effective remover of alkali metals and oxides from molten aluminium.
ACT has established Refinal as a market leader and the product has excellent synergy with a rotary flux injector (RFI).
The RFI, used with Refinal fluxes, provides the ideal application system for impeller furnace stirring and fluxing. An appreciation of reaction kinetics reveals that the rate of removal of alkalis using different addition methods can be compared by the rate removal constant (k). The k value is much higher and therefore alkali removal greater when using the RFI and the k value is particularly high when using Refinal with added fluoride.
Studies by Hydro Aluminium Rolled Products have also shown that flux treatments with the RFI impeller system generate 50-70% less dross than alternate flux addition methods or with chlorine gas; a real benefit for casthouses.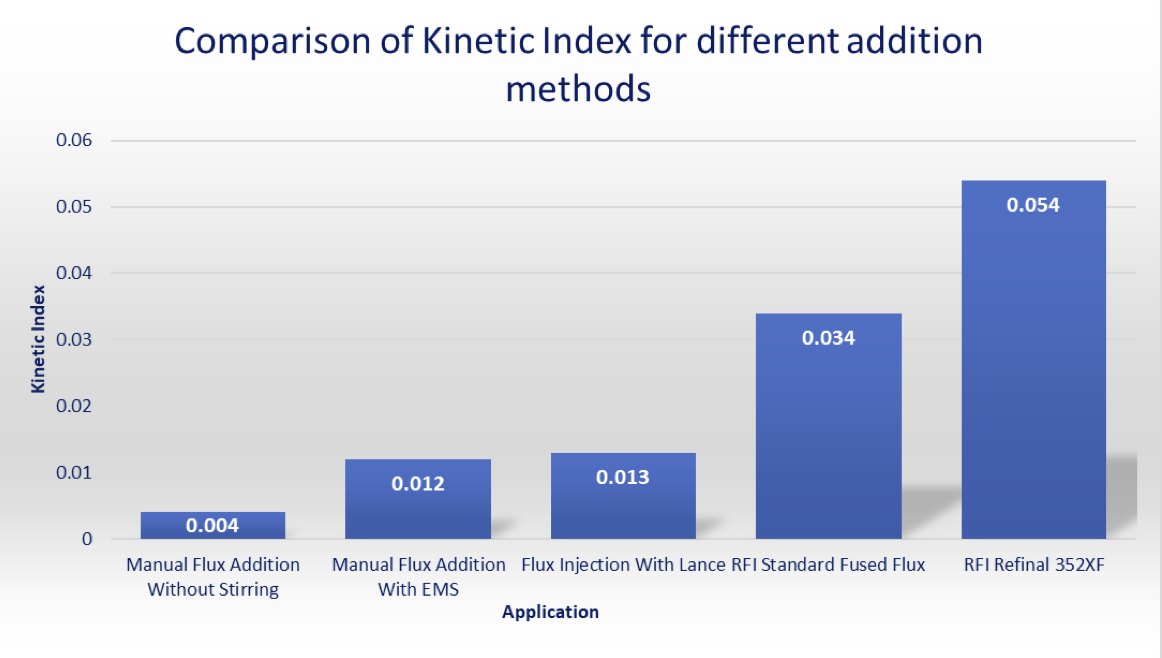 Effect of flux mixing method on kinetic index k